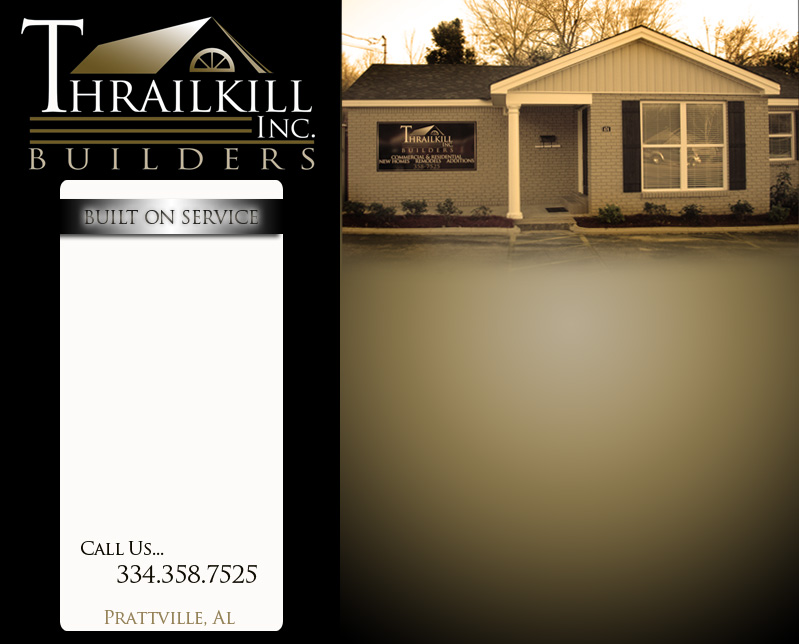 (C)2012 Thrailkill Builders. All Rights Reserved.

ABOUT THRAILKILL BUILDERS INC.

Thrailkill Builders Inc. has been developing, remodeling and building  some of the regions finest new homes for over 16 years.  Our experienced Construction team and on-site professionals are knowledgeable in assisting homebuyers throughout the entire homebuilding process to ensure that all expectations are met.  From the moment a homesite or new home is selected, we're with you every step of the way.

Thrailkill Builders Inc. create a strong, vibrant sense of place, while blending seamlessly into the southern landscape. Custom homes are our specialty, whether large or small and regardless of your budget.  Thrailkill homes are as beautiful to look at as they are comfortable to live in, forever balancing form and function; luxury and economy; nature and the built environment.  We cut no corners when it comes to structural quality, architectural integrity or support. We only pursue designs and construction standards that stand the test of time, a test we measure in generations, not mere years. .

Thrailkill Builders Inc. goal is to deliver more than just keys to a your new home.  Our foundation and commitment is to SERVICE and developing a relationship of trust with our clients that will leave a lasting impression.